HIGH QUALITY & TRUSTED PORCH AND STEP REPAIR PROFESSIONALS
Heron Construction Services offers complete rebuilds, miscellaneous brick repairs, tuckpointing, and new concrete caps. We also offer multiple style steps such as brick steps, concrete, precast-concrete, and limestone.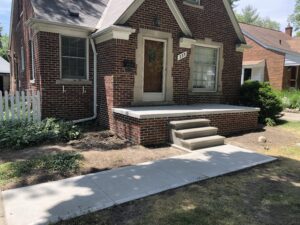 Heron Construction Services has a dedicated team of porch and step repair experts. Our team has immense experience in porches and steps throughout the Metro Detroit area. From brick porches to concrete porches, we have seen it all and been able to help in their full restoration.
Our primary goal is to make sure your porch and steps are properly functioning and all safety standards are met. Our second goal is to make sure your porch and steps look and feel is improved or in some cases restored to match the historical elements of the property. If you need a porch and step, repaired, replaced, or restored please call us today.